Bacon Busters
Australia's first and best title dedicated to pig hunting, Bacon Busters is an icon on the hog-hunting scene in this country.
Every issue of Bacon Busters is jam-packed readers' short stories, how-to articles, pig hunting features, technical advice, pig dog profiles and Australia's biggest collection of pig hunting photos. Not to mention the famous Babes & Boars section!
Send us your Babes & Boars and pig hunting pics to pigpics@baconbusters.com.au
The latest issue of Bacon Busters is available now on newsstands, on Zino or subscribing.
Everything you need to know about Miss Bacon Busters 2018...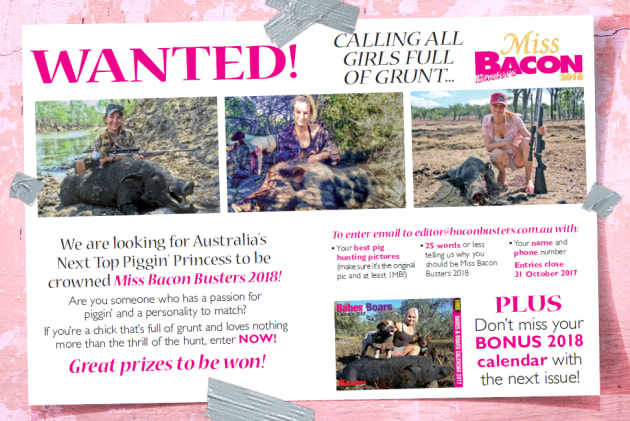 To enter: email editor@baconbusters.com.au
Include:
Your best pig hunting pictures (original pic and file size at least 1MB)
25 words or less why you should be Miss BB 2018
Your name and phone number
Entries close 31 Oct 2017
*Bonus 2018 Calendar with the Jan 2018 issue - on sale in December!