BUSHRANGER-REVO Recovery Winch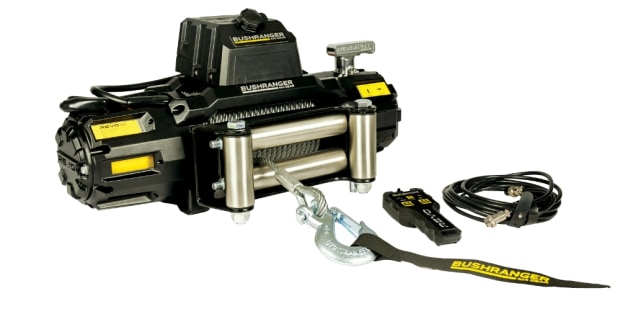 Recently Bushranger introduced their new REVO Vehicle Recovery Winch packed with loads of features that have been engineered, designed and tested locally. This winch marks a significant change to the Bushranger brand that has been supplying quality 4 x 4 product for over 40 years.
The new REVO winch is packed with many features including high quality construction, low current draw, 4-stage oversized gearing with fast line speed and an advanced proportional friction braking system that will reliably hold 100% of the rated load with no slippage. The zero-drag braking system allows for fast, no load line speed, making un-spooling a simple task. Next, a fully sealed motor and gearbox gives maximum protection from water, dust and debris.
The Bushranger REVO's versatile design will also maximise the ease of instillation with 16 Gearbox clocking positions and a multi-mount control box.
Available in the choice of wire or synthetic rope version, the wire version is supplied with a strong roller fairlead set-up incorporating durable stainless steel rollers, while the synthetic version comes standard with the legendary two-position aluminium hawser ffairlead that was an innovation first introduced by Bushranger.
To find out more visit www.bushranger.com.au or ask at your local ARB outlet.