SIG Sauer KILO2400ABS Ballistic Rangefinder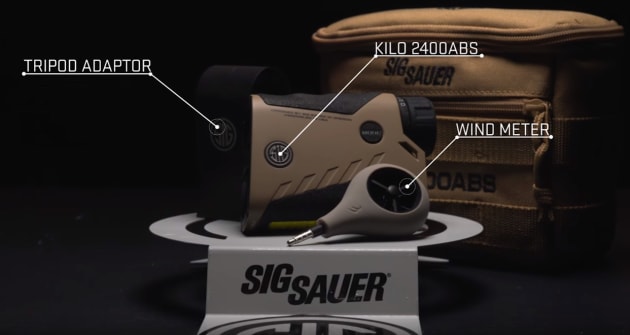 The SIG Sauer KILO2400ABS Ballistic range finder has just landed in Australia. If you are serious about your long range shooting and hunting then this system needs you attention. 
The advanced technology behind takes the guess work out and puts the calculated data in the palm of your hand. 
Long-range precision target shooters and hunters, you'll wonder what you did before SIG Sauer's KILO2400ABS Ballistic Rangefinder came out. It syncs with iOS or Android™ smartphones and the included wind meter and ballistic app tripod adapter for enhanced information that'll get you on target. 
Embedded Applied Ballistics Elite calculator is loaded with a bullet database so you can match your ammo. Onboard temperature, pressure and humidity sensors and included wind meter provide real-time inputs. Bluetooth® 4.0 synchronizes with up to four custom ballistic profiles between the free SIG Sauer ballistic app and the rangefinder. SpectraCoat™ coatings provide incredible clarity.
HyperScan™ and LightWace DSP™ technologies provide super-fast readings. Lumatic™ OLED displays shows hold over, angle, wind direction and speed, target mode, density altitude and shot angle and automatically calibrates brightness to changing light conditions. Compact, lightweight magnesium housing with binoculars-style eyecup and diopter adjustment.
Max range: greater than two miles on reflective targets, 1,800+ yds. on trees and 1,400+ yds. on deer. Runs on one CR-2 battery battery (included). Includes: smartphone wind meter, tripod adapter, smartphone jack, ballistic-nylon MOLLE kit bag and nylon carry pouch, lanyard, three spare batteries and SIG Sauer tactical pen/stylus.
The total unit weighing in at 212g
 Field review of the product