WARNE Scope Rings, Bases & Accessories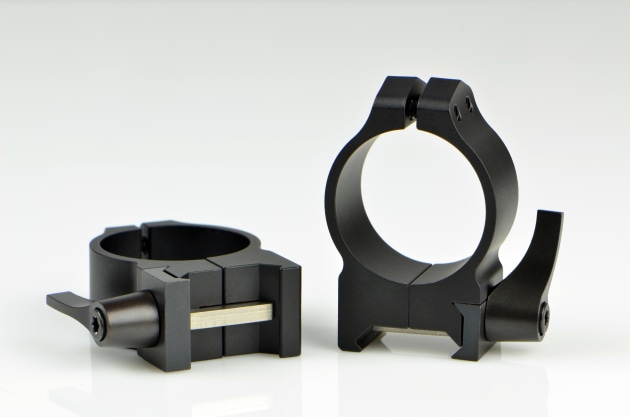 When it comes to mounting a scope to your favourite firearm, rings and bases are an important consideration as they are what hold the scope in place and ultimately its zero. Warne are an American based company with all you'll need to do so, insuring a confident shot once the mounts are correctly fitted and the scope zeroed. Warne offer several types of bases including one-piece rail mounts to fit most of today's firearm models and two-piece bases with Weaver style low, sleek profile. Their Maxima scope rings are available in the choice of I", 30mm, 34mm and 35mm diameter. What makes these rings a little different to most is they offer a unique vertical split design that increases surface contact with the scope while automatically centring on the bases. So you don't have to lap the rings nor use an alignment bar when fitting the scope.
Next is their Mountain Tech range of traditional style rings, in low, medium, high and extra high for larger diameter objectives. These offer double lock-down screws on the front and rear rings to ensure secure scope to ring attachment. Also available are their MSR one-piece, Flat Top Rings and their Tactical Rings and Rails designed for heavy recoil and offering all steel construction with a 22% wider ring body. There's even a Side Mount at 45degree angle that will fit on a picatinny rail if you'd like to ad a Red Dot to your scope mount set-up. Other options like quick detachable rings are also available, as are rimfire rings and more.
Warne also produce a range of accessories to compliment their scope rings and bases. These include a Range Tool featuring 12 of the most popular bits, a torque wrench to precisely tighten screws and Hex nuts, a universal scope leveller to ensure your reticle is level and even their Switch-View that simply fits on the zoom ring of your scope, making it a lot easier to rotate the power selection. See the full range of Warne scope rings and accessories at your local gun shop or visit www.tasco.com.au