Pitching A Lightweight Shelter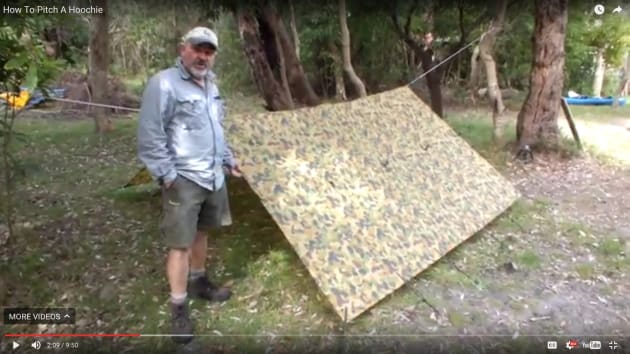 Hunters who venture into the backblocks carrying all they need on their backs need effective lightweight gear. The Hoochie is an expandable fly-type shelter used in similar forms all over the world by infantrymen to allow them to sleep protected from the elements.
I have spent hundreds of nights under hoochies, which weigh just 600 grams, both when a soldier and since then on many long bushwalks and hunting trips. I have stayed dry under an inch of rainfall, camped on the side of mount Kosciusko in winter with it secured with rocks and piled up snow (my sleeping mat blew out from under me though) and I've taken it on hunting camps and this minimalist, beautifully conceived shelter has never let me down.
Over the years I have perfected pitching the "Shelters Individual" with the tweaks you'll see in this video. If this gets a good response, I'll do more videos on alternative pitching ideas for different conditions for the benefit of "hoochie-files".
Thanks to my best man, Mark Adamson, for the camerawork on this video.