Rogue Deer Spot lighters and Poachers - Terrorising Victorian Farmers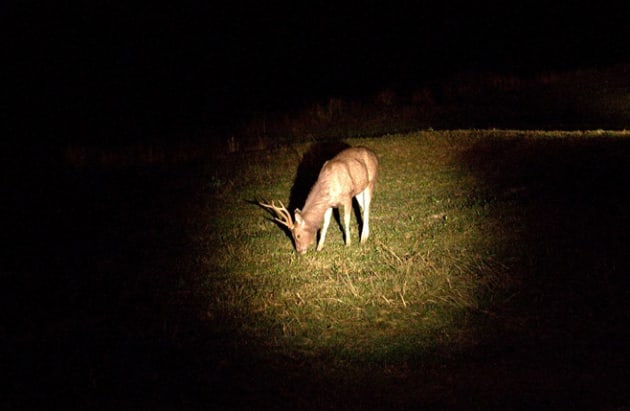 Farmers from remote pockets of Victoria are calling on local authorities to work harder catching the few bad eggs giving law abiding deer hunters a bad name. 
Some farmers are reporting they have recei­ved death threats for standing up to the shooters after late-night experiences of gunfire erupting from the darkness.
A Sunday Herald Sun investigation has been told heavily armed hunters have indiscriminately opened fire across private land after pulling their vehicles over on country roads.
The Weekly Times reported Landholders have installed CCTV to help deter them.
Cases have been reported of:
DEER carcasses being dumped in waterways;
NATIVE animals, including emus and wombats, being shot;
FARMERS losing livestock to the shooters;
FENCES being cut by hunters to enter properties; and
SHOOTERS "closing" remote roads while they hunt.
Omeo farmer Simon Lawlor has installed cameras to identify trigger-happy intruders.
"We've been dealing with this for 10 to 15 years," he said.
"The problem ... is the worst it has been in years."
Mr Lawlor said he had lost up to $30,000 in livestock.
"Finding some of the calves in a state of how they've been left is awful," he said.
"I've had cows shot dead and their calves are running around looking for them."
He said farmers wan­ted policing beefed up and penalties for rogue shooters increased.
"We need a special taskforce to deal with it — it has been going on for too long and it needs to stop," he said.
Another farmer, who wanted to remain anonymous bec­ause of death threats, said the problem was "out of control".
"Illegal hunters vandalise property, leave toilet mess and dead animals to rot," he said.
"I've had a lot of animals killed at my property and we're left to clean up the awful mess.
"They not only kill for the sake of it, but they're also vandalising my property by breaking padlocks and chains."
A Victoria Police spokeswoman said it ran several multi-agency operations each year in deer habitats.
"We know offences relating to farm crime such as illegal hunting are often under-reported," she said.
"We want to assure victims that police will act and investigate reported incidents.
"We continue to work closely with farmers throughout the state to encourage the reporting of criminal matters."
Field and Game Australia chairman Bill Paterson said his organisation backed the Game Management Authority's res­pect campaign for hunters.
"The majority of hunters do the right thing," he said.
"The best way to protect your hunting in future is to call out these people."
These rogue hunters are doing more damage that anyone could fathom. It will take one accident or lapse of judgement to close major sections of our chosen past time down for good.