NZ Tahr cull - Hunters win concessions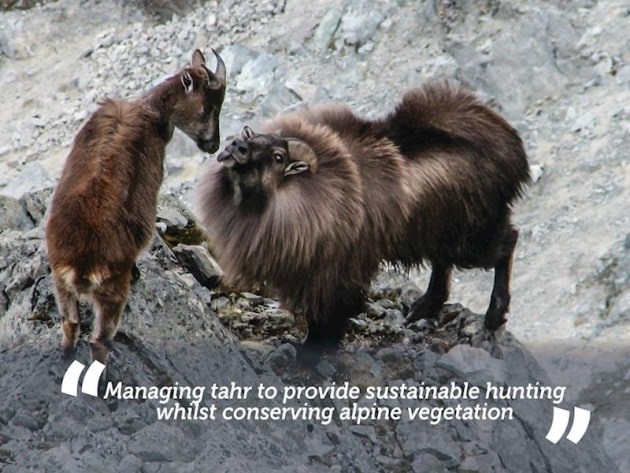 LATENEWS FROM THE NZ TAHR FOUNDATION - 2ND OCTOBER
"Hunting lobby wins concessions over tahr cull"

This was the Radio NZ headline this morning. The minister seems to have announced the outcome of yesterday's meeting, stating there will only be 6,000 tahr culled this year, plus up to another 4000 next year if needed. Basically DoC and the minster appear to have accepted the Game Animal Council's well thought out and whole of hunting sector consulted tahr management plan. It was a very constructive meeting yesterday and common sense appears to have prevailed. Doc in particular were very constructive and appeared to only want a workable and sensible outcome.

We posted up the link to the GAC plan a couple of days ago, but here are the most important points, as agreed upon by all of the hunting sector:

Initial cull before mid-November kid drop of 6000 targeting the hard to get at and highest density areas and leaving the most accessible areas for recreational hunters.

Any remainder to make up the initial 6000 to be taken in April 2019 so as to not early-wean any kids and stunt their growth in that most important first year.

No bulls to be shot anywhere in aerial culls.

WARO to be used where possible to utilise the carcasses.

Maximise the effectiveness of ground hunters by allowing more access and targeting them to where they can be the most effective.

The commercial and recreational hunting sector to take trophy bulls as they do now, and tahr meat recovery of nannies only, and also establish an ethos of taking far more nannies by recreational hunters. This combined approach will for account for another 4000 tahr over the forth coming season.

Re-evaluate after a year and re-target as necessary – using adaptive management principles.

Even though its early days yet and we'll wait until we've seen the proposal in writing, this result shows what we can achieve when the whole hunting sector is totally united under the GAC. While we have the application for the court injunction waiting with our lawyers at the moment in case its needed, hopefully the majority of the donations can now go towards constructively moving forward - gathering robust data and working towards establishing the tahr as herd of special interest under the GAC!