A charming photo of a special billy taken by Jas with her beau Brett.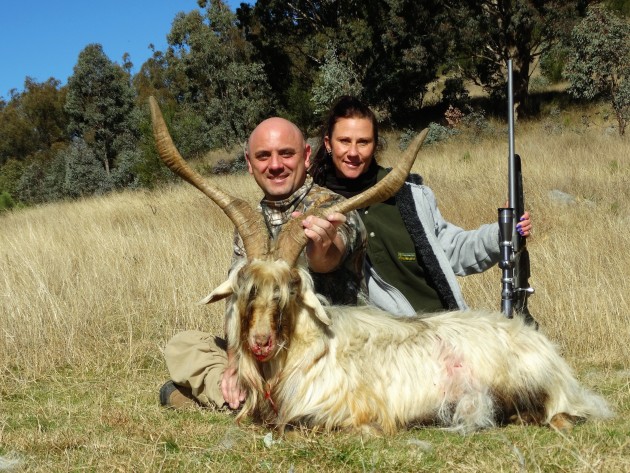 If you have images of anything hunting or shooting related you wish to submit, like animals you have decked, cleaning your gun or even handloading in the shed, sharing it with other hunters will help keep us all motivated to get back to normal ASAP. We may not be able to buy all we would normally, but getting back to a simpler, more fundamentally focussed existence may help us to become better versions of ourselves. Let's look after others where we can, as well as ourselves. Our hearts go out to our poor brothers and sisters in Victoria, where savage Covid lockdowns  must certainly be crimping hunting activity badly - and this in the most traditionally active hunting state in Australia. Stay strong Victorian outdoorspeople - we support you.
We have maintained the prize lineup courtesy of Ridgeline, with a new knife  and the Ridgeline Tru-Shot Backpack and the good old Ridgeline Haul All Bumbag and Meatsafe, which I regularly use in the field. It has proven most satisfactory, durable and a great expedient field rest due to its design.
VERY IMPORTANT - READ BELOW
Now photographers PLEASE, if you facebook me an entry, please follow up with an email, maybe with the picture attached, but definitely with your mail address details, so that we can send you a great Ridgeline prize if you win. It saves me and my addled brain having to follow you up. Send to marcusodean@yaffa.com.au
Ridgeline's Tru-Shot 25 Litre Backpack.This pack is 25 litres of convenience especially designed with the day trip in mind. Features include comfortable shoulder & waist straps with ammo loops in the belt pockets, hydro clips for a bladder (sold separately) plus a lightweight moulded foam rest to get that perfect steady shot from a long distance. All supported on a super ventilated frame & added safety benefit of a removable blaze rain cover so you can find your pack, keep it dry and make sure you're visible on your trek out of the bush.
Ridgeline 4.5-inch Linerlock Folder. A utilitarian, rugged folder, whose drop-point, false top edge design will skin and butcher the largest animal. The thumbhole oval cut-out allows easy one-handed blade deployment and the alloy black scales and titanium-grey finished blade allow easy cleanup and corrosion resistance. A pocket clip on the back scale is a thoughtful addition.