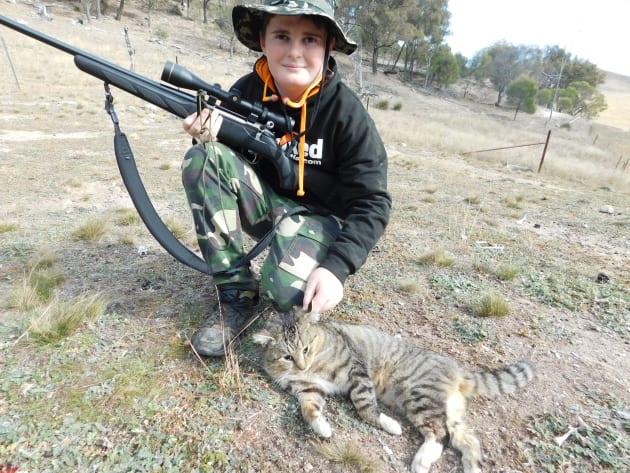 Heading up the last June entries is young Blake Papworth, who .223-ed a ferocious feral feline - I use alliteration sparingly, but couldn't resist - sorry. In any case, I know why young Blake is smiling, because whenver I have put a feral cat's "cue in the rack", I have not been able to wipe the smile off my own face. Well done for the little native critters, Blake.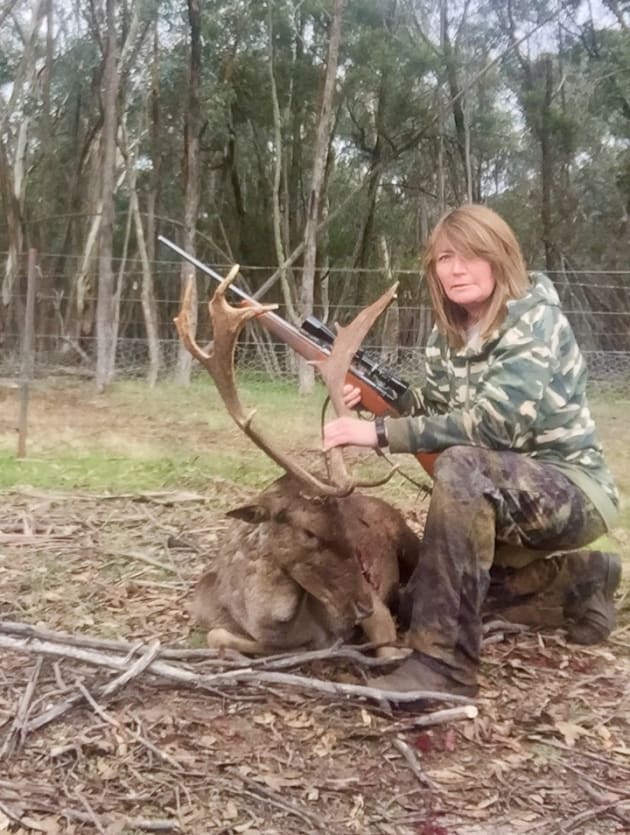 Now Vicky Brownlee's fallow story is a good one.
"I got this fallow a couple of weeks ago although his palms are uneven I was very happy with him. I shot him
with my husband's .30-06. I have just bought myself a .308 tikka I have run the barrel in and I'm now ready
to go. This hunting is very addictive."
Amen to that Vicky. Bit of advice though. Spend a few minutes cleaningaway excessive blood and gore before
you engage the camera
And Gary Hall's extended clan has not been idle. Here we have Matt Hall's girlfriend Sally with her latest buffalo.
Crikey Gary gets onto some game up in The Territory.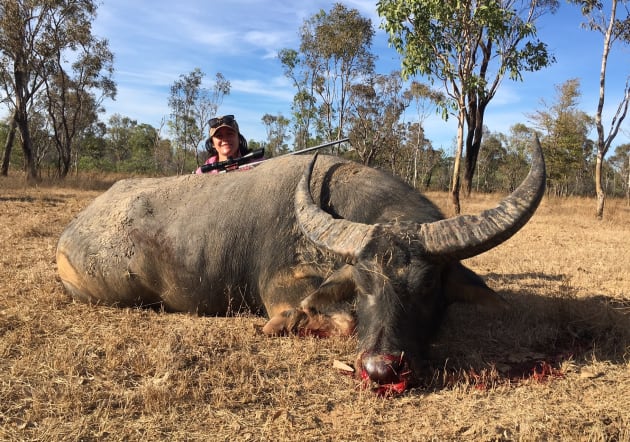 Guerrilla Carbonman VERY IMPORTANT - READ BELOW
Now photographers PLEASE, if you facebook me an entry, please follow up with an email, maybe with the picture attached, but definitely with your mail address details, so that we can send you a great Ridgeline prize if you win. It saves me and my addled brain having to follow you up. Send to marcusodean@yaffa.com.au
See you all next week and keep those great photos coming in and you'll be in with a chance to win one of these....or a nifty Guerrilla knife.

Ridgeline Martuk 3-in-1 Backpack - Bumbag
The Martuk is full of surprises. What you think is merely a functional bum bag cleverly opens out to reveal a spacious backpack. The upper section of the bag that forms the backpack stows neatly in its own compartment above the main pocket of the bum bag which is nice as it doesn't use any of the bum bags storage space. Unlike a lot of other stowaway packs all the straps are quite generously padded and there is a sternum strap so using the backpack for prolonged periods is a real option. Another nice touch are the 2 generous pockets located in easy reach on the hip belt. These are large enough to store food, camera, GPS units, mobile phones or any other smaller items that you may want access to without having to remove your pack. There are also elasticised loops in these pockets to store extra ammunition should you need to. The pack is rounded out with another pocket on the front of the main pock and compression straps under the pack which could easily double as gear loops for a tripod or smaller sleeping mats. The Martuk is an excellent option for those who usually only need a small amount of storage space but may want the option of a larger backpack.
If you want to check the Martuk out online, here's a youtube review to show you just how versatile they are.