May - June 2022 Ridgeline Hunting Photo Competition
Here are the entries in Ridgeline Hunting Photo Competition for May-June 2022. Every two months someone will win a brilliant Ridgeline backpack and knife. Send in your picture now to be part of it. See the bottom of the post for full details of how to enter and what you might win! 
Doing pretty good!
"My wife, Pranom, and I have been supporters of the Ridgeline photo comp for a long time, but it has been a while since we submitted an entry," says Anton Van Bysterveld. "I have been a subscriber to Sporting Shooter magazine for almost 50 years and even today at my age there is nothing better then getting out in the bush with my wife to try our luck. As you can see in the photo, we do pretty good most of the time and fill the freezer with some good organic tucker."
Maegan bags two billies

Maegan Sherritt took a trip from Victoria into central NSW and decked these two billies within a couple of metres of each other.
The name of the game
Ben Fergusontells us, "This photo is one of my favourites from the best night of spotlighting in my life as I took my son Hunter out and had him shooting at game for the first time. He was able to bag his first rabbit before we whistled in two foxes and was able to shoot one. He ended up shooting two foxes and 13 rabbits for the night using my CZ 22 magnum. The months of target practice paid off. It's fair to say he is hooked now." Good stuff!
Tim's bunny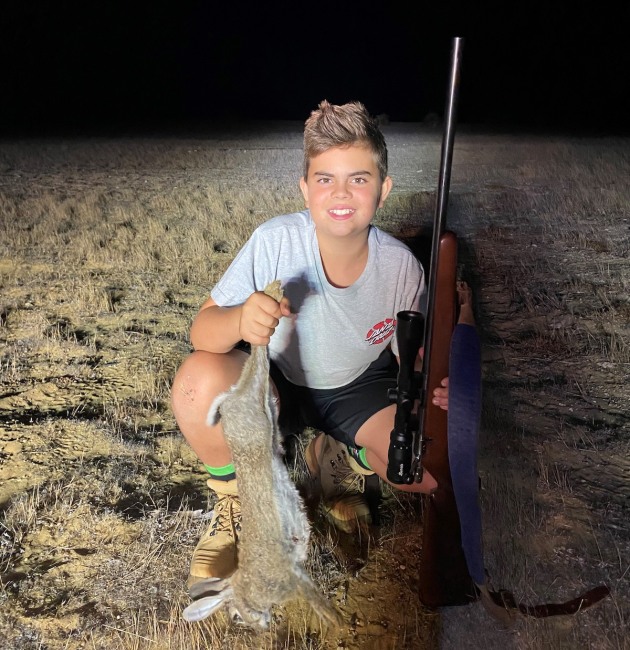 "We were out spotlighting on a mate's farm North of Perth when my 11 year old son, Tom, got his first bunny," says proud dad Tim Britten. "He's a great kid and this night he was stoked to get out with me and his brother. The .22 and the Australian boy: what a wonderful thing for a father to be able to do with his son. I just hope his kids get the same opportunity."
RIDGELINE PRIZES
Ridgeline Tru-Shot 25 Litre Backpack - 25 litres of convenience especially designed with the day trip in mind. Features include comfortable shoulder and waist straps with ammo loops in the belt pockets, hydro clips for a bladder (sold separately) plus a lightweight moulded foam rest to get that perfect steady shot from a long distance. All supported on a super ventilated frame and with the added safety benefit of a removable blaze-orange rain cover so you can find your pack, keep it dry and make sure you're visible on your trek out of the bush.
Ridgeline 11.5cm Linerlock Folder knife - a utilitarian, rugged folding knife, whose drop-point, false-top edge design will skin and butcher the largest animal. The thumbhole oval cut-out allows easy one-handed blade deployment and the alloy black scales and titanium-grey finished blade allow easy cleanup and corrosion resistance. A pocket clip on the back scale is a thoughtful addition.
HOW TO ENTER
Terms and conditions: Simply email your hunting image to the editor along with a brief description of what it's about. The editor will select the winning image from all those submitted, based on quality and content; the editor's decision is final. This competition is open to Australian residents with a postal address. All entrants must provide their details (full name and postal address). Your information will only be used by the promoter Yaffa Media. Yaffa Media Privacy Policy.