Garmin Sporting Dog Products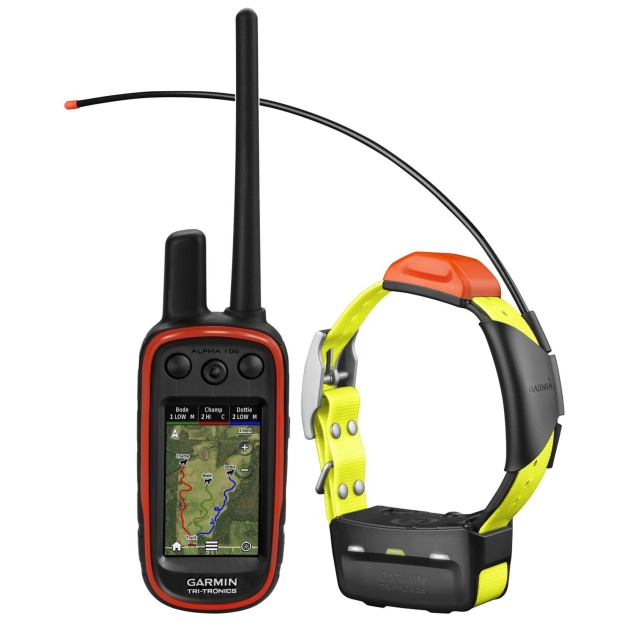 Whether you're a pig dogger, duck hunter or simply like to take the pooch along with you when out hunting Garmin offer a selection of devices for tracking, training, obedience and nuisance barking. For doggers the Astro 430 or Alpha 100 multi dog tracking GPS and remote training device will track up to 20 dogs from up to 7 kilometres away and will measure dog's speed and distance travelled. The Garmin Alpha 100 combines its proven GPS tracking with Tri-Tronics electronic dog training technology which is easy to use when in the field.
Combined with Garmin's T5 dog collars, it pinpoints up to 20 dogs exact position on its touch screen updating at 2.5 second intervals via a TOPO Lite Australia and New Zealand colour on-screen map. The T5 dog collar is a highly sensitive GPS/GLONASS receiver that uses LED beacon lights activated from the Alpha 100 and also features vibration and audible tone to assist in training and attracting the dog's attention. The T5 is also water resistant to 10 meters.
When hunting with dogs from a vehicle, Garmin's Drive Track-71 in vehicle dog tracker is another excellent choice. The Drive-Tracker pairs with select Garmin GPS dog systems to allow you to track your dog/dogs from inside your vehicle and is also a powerful navigator.
Offering a large 6.95" display, it can be mounted on the dashboard allowing you to track and navigate from inside your 4WD. This unit offers off-road navigation detail with Topo maps and birdseye satellite imagery and you can even pinch-to-zoom for a closer look at the area you are hunting.
Other features include Wi-Fi connectivity for easy updates of maps and software and Bluetooth wireless technology for hands-free calling, voice-activated navigation and lots more. In up and coming issues we'll take a closer look at some of these products and also Garmin's excellent range of GPS hand-held units including their Rino 700 Series which combines a GPS/GLONASS navigation and powerful 2-way radio in the one unit.
To find out more ask to see the Garmin range at your local gun shop or visit www.garmin.com.au