Nikko Stirling Panamax Precision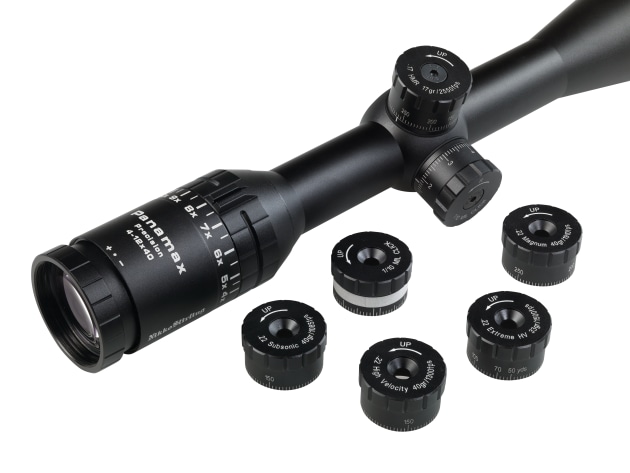 Nikko Stirling has recently released a new riflescope referred to as the Panamax Precision with wide angle lens for a 20% more field of view than most standard 1" scopes. Rated for airguns, rimfire and centrefire rifles it features a 1" main tube with HMD (half MilDot) reticle and 4-12 x 40mm configuration. Like all well-made scopes, the new Panamax. Precision riflescope is nitrogen purged, making it fog and shock proof and also features fast eye focus on the ocular end for clarity adjustment. Add to this multi coated lenses for a clear crisp picture.
What makes this scope so special, however, is the fact it also comes complete with 6 separate ballistic turrets supplied and calibrated for a variety of calibres and set velocities. These include the following.
• .17 HMR / 17gr / 2250 fps
• .22 Subsonic / 40gr 1085 fps
• .22 High Velocity / 40gr 1300 fps
• .22 Extreme Velocity / 33gr 1500 fps
• .22 Mag. / 40gr /1910 fps
• Blank Turret for customised drops
The new Panamax Precision riflescope in 4-12 x 40 is quite compact and features multiple ballistic turrets for easy drop compensation, in fact I'm told there will be more drop turrets added in the future. In the meantime, you can check this new scope out at your local gun shop or visit www.osaaustralia.com.au for more information.