Ridgeline Dome Swag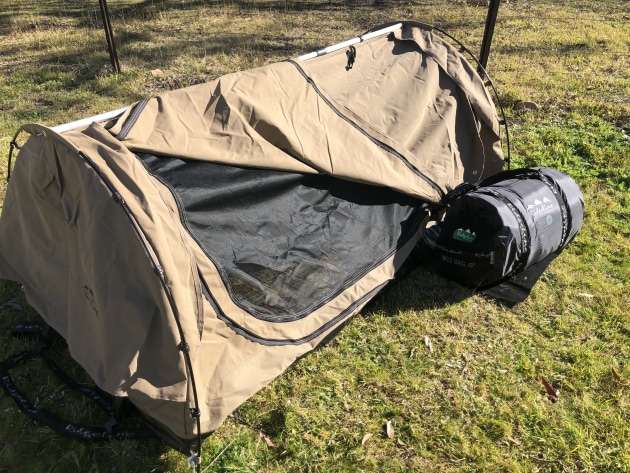 Readers may remember, I recently reviewed the Ridgeline Swag Bag, a doona-like sleeping bag designed to be used on its own or in a separate swag. Unlike a mummy style bag, the Swag Bag is very generous in size with plenty of room to move. Almost 100cms wide and 235cms long including the hood, this sleeping bag compliments the new Dome Swag 1100 that was recently released by Ridgeline. This new, affordable swag, Teak in colour, is made from high quality 400gsm Cotton Rip-Stop Canvas with a 500 GSM heavy duty PVC floor. The floor also features a 50mm bucket around its perimeter to ensure water won't get in during heavy rain and a well thought out PVC door matt is attached on the outside base, so you can take you boots off and enter the swag with clean feet.
The Ridgeline Dome Swag is 2150 long x 1100 wide and offers plenty of head room at almost 1 meter internally. Other features include an internal window at the head of the swag and an internal storage pocket for easy to locate necessities. Next, fully zippered Insect mesh openings for breathability and fully zippered storm covers are integrated to both sides of the swag with a storm flap across the top and sides to ensure water can't enter. The idea of having mesh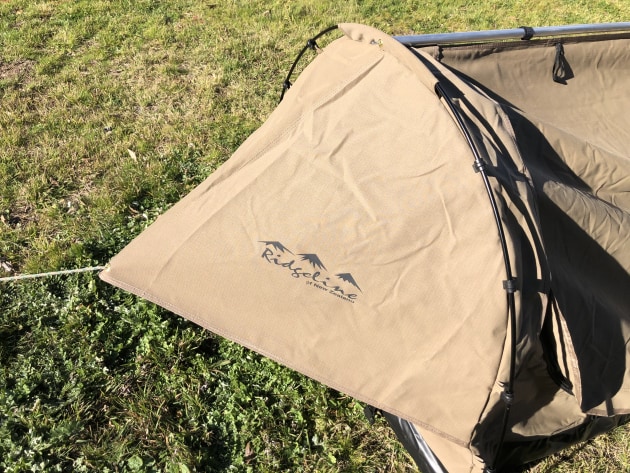 openings on both sides allows the use of the swag in warmer weather, creating air flow from either side and also through the mesh window at the head of the swag. Being a bit of a light sleeper, I also like the fact you can roll up the canvas sides at night and just stargaze without the fear of being bug bitten. Another feature I found a welcome addition was its 70mm high density mattress offering a little more comfort than others I've seen at only 50mm. This mattress also features a removeable cover that can be simply unzipped and hand washed if and when required.
Setting up the Ridgeline Dome swag 1100 is also a very simple task. Just roll it out, attach the two lightweight hoops and the adjustable aluminium ridge-pole across the top and you're done. This freestanding swag also features storm awnings at the top and bottom end of the swag with eyelets to attach a guy rope for additional sturdiness in windy conditions. In fact, a small canvas bag containing steel pegs is also supplied to allow you to peg the swag down if needed. For a comfortable night's sleep after a hard days hunting, Ridgeline's Dome Swag and Swag Bag sleeping bag make the ideal combination. I'm told the new Ridgeline Dome Swag 1100 retails for just under $400.00. The Swag Bag sleeping bag is available for around $179.00. To see them ask at your local gun shop or visit www.ridgelineclothing.com.au